How Fish are Shaping Nassau County's Farm-to-Table Movement
December 5, 2017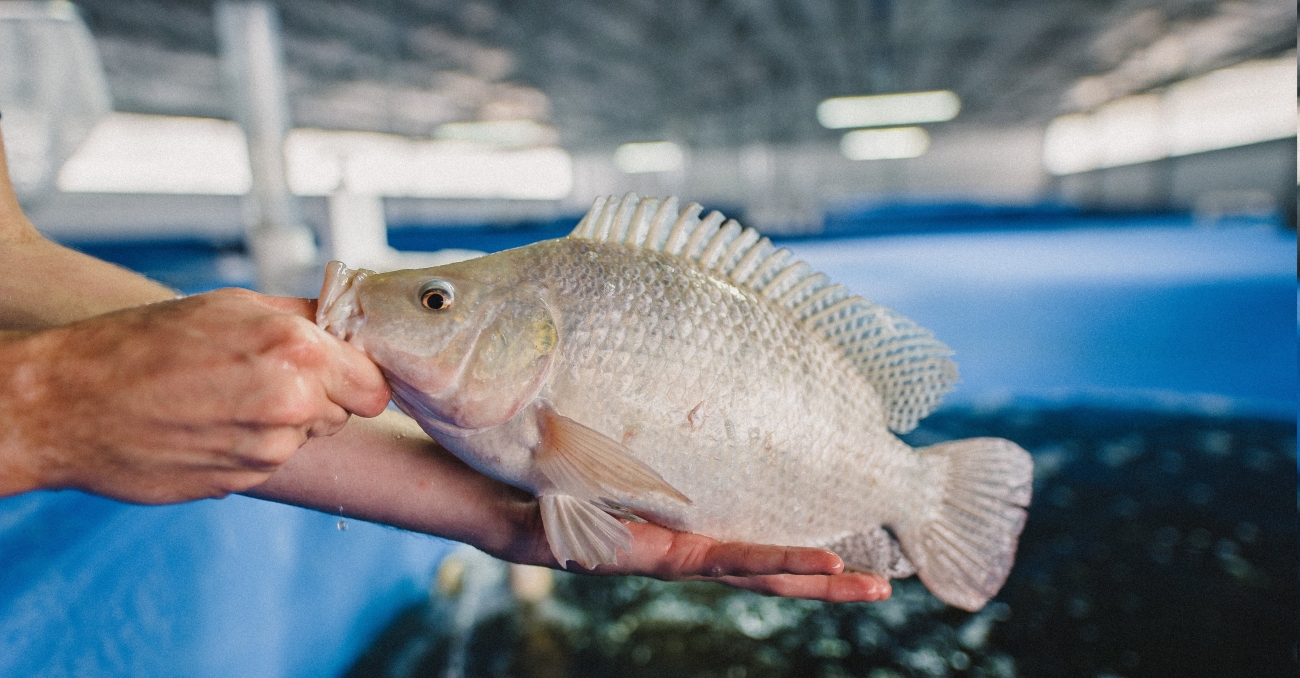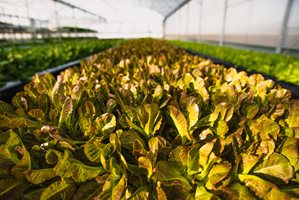 It wasn't long ago that we knew exactly from where our food came. Our grandparents and great-grandparents were on a first-name basis with the local butcher and knew which dates the neighborhood bakery made their favorite bread. Food wasn't genetically modified. It was grown to be consumed within days of harvesting.

Today, consumers often feel as though they need a Ph.D. to read ingredient labels as factory farms churn out produce, meat, and fish utilizing questionable practices. Studies show that Millenials spend their dollars on their health, things that are local, and as they have children, they pass on those values.

Traders Hill Farm in Hilliard, Florida, known for their flagship Romaine lettuce, hopes to swing the farming pendulum to the days of cleaner, safer ingredients, and practices.

"I am a firm believer that whatever you put into your body has a direct correlation to your health. It's important to have a product that is as clean as possible," said Tracy Nazzaro, General Manager of Traders Hill Farm. "You can feel really good about where our food comes from. It's as clean as you can get."

Traders Hill Farm utilizes aquaponics, an ecosystem that is a marriage of an aquaculture operation and a horticulture operation. The aquaponics process begins with tilapia and is linked through a recirculating aquaculture system or RAS. Tilapia are used because of their hardiness, ability to live in close quarters, and are good with temperature fluctuations.

"Our Tilapia are fed a high quality, low protein diet," said Nazzaro. "Their waste is then fed through a wastewater treatment plant, which mimics composting. It breaks down the ammonia to nitrite and then nitrates, which becomes the plant food. The nitrates are the most beneficial for our plants."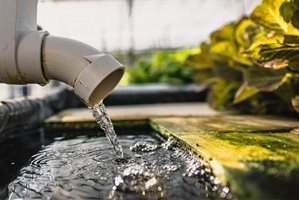 The nitrate flows to the float and grow beds, which to one's eye, appears as though thousands of heads of romaine lettuce are floating on water. The roots take up all the nutrients they need, and what is not absorbed by the plants, is returned back to the fish.

"We check the water before it goes back to the fish to make sure it has the right PH balance and all the ammonia has been discharged and it's perfectly clean water for the fish. We don't have to add any other nutrients to our water for the plants," said Nazzaro. "We are very careful about anything that is not completely organic and elemental because it could hurt the fish."

For Traders Hill Farm a quality product means no herbicides, no pesticides, and no fungicides. And with a quality food product comes food safety, which the farm takes seriously.

Traders Hill Farm obtained the SQF3 food safety rating - the highest one can achieve, exceeding the standards of both their distributor and the United States Department of Agriculture (USDA). SQF is recognized globally by foodservice providers and retailers who require a rigorous, credible food safety management system.

"Because of our food safety rating, we must go through two approved vendors - Johnny's Seeds and Seedway. They carry non-GMO seeds of the lettuce varieties we like," added Nazzaro.

Every one of Traders Hill Farm's thirty employees has taken the ServSafe® food handling course, which is required by restaurants. It teaches employees about cleanliness, hygiene, handling food, and how items can't be left out.

"ServSafe is a requirement upon employment," commented Nazzaro.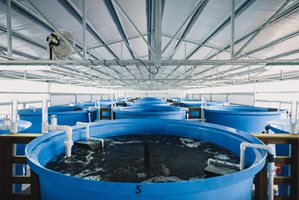 Even though the farm is only required to have two employees trained in hazard control (HACCP), they have nine and will continue to add more. Hazard Analysis and Critical Control Points (HACC) is a preventive approach to food safety from biological, chemical, and physical hazards in production processes that can cause the finished product to be unsafe.

Restaurants have made national headlines for unfortunate health outbreaks and because of this, Nazzaro and the team at Traders Hill Farm are committed to biosecurity.

"We track everything from seed to customer. When a batch of seeds arrives, we track the lot number and we know what date and where it was planted. Once the plant goes through the germination propagation process and transfers to the growth process, we know which team member took that plant and harvested it, and which boxes it went in and to which customer," explained Nazzaro. "It is really important that we don't break this chain."

While aquaponics has been around for quite some time, the rise of the farm-to-table movement calls for more sustainable farming methods, something that makes Traders Hill Farm attractive to clients. The farm sells primarily to high-end restaurants and small, neighborhood grocery stores with discerning customers, who want to know how and where the food is sourced.

Having a consistent, year-round growing season allows for the farm to maintain a fairly consistent price point, unlike other growers whose crops fluctuate.

"We have consistent, available supply to keep the price point steady. This helps the restaurants manage their foods costs," added Nazzaro.

One of the biggest selling points for Traders Hill is their taste of their lettuce.

"We do a lot of taste-testing to make sure the varieties we have are just right. They're a very sweet, clean Romaine," said Nazzaro.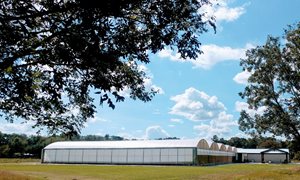 Time to table – the time from when a product is harvested to the time it appears on the kitchen table – adds to the freshness and taste. With traditional dirt farmers, typically found in Yuma, Arizona or Salinas, California, it can take 10 – 14 days from the time the Romaine is harvested to the time it hits the grocery store. Oftentimes, it can even spend another week in the grocer's cooler. With each passing day, the lettuce starts to degrade.

"With our process, our lettuce is harvested and in a grocery store within 24 – 48 hours," said Nazzaro. "We grow for taste, they grow for shipping."

Traders Hill Farm is also proud that their quick turnaround time reduces their carbon footprint.

"It's approximately 2,700 miles from Salinas and 2,200 from Yuma to Jacksonville, Florida. It takes a lot of fossil fuels to distribute that product," explained Nazzaro.

Traders Hill Farm can harvest about 125,000 plants every 30-40 days, using a rotating production schedule to ensure consistent product supply. Presently, they harvest 3,000 pounds of lettuce per week and are increasing production capacity to about 6,000 pounds per week.

Nazzaro believes that a healthy lifestyle must start at a young age.

"We've done events at schools and inevitably, parents will tell us that their children won't eat our lettuce when we offer them a sample. What the parents initially don't realize is that our lettuce is sweet, thus more appealing to a child's taste buds. Those children end up eating our lettuce and asking for more," said Nazzaro with a smile.

Nazzaro is proud of Trader Hill Farm's partnership with their local school district, which began when a teacher from West Nassau High School received grant funding to build a demo aquaponics facility. She hopes to get summer interns from the project, and eventually an intern from each of the county's high schools.

Traders Hill Farm has built upon that initial relationship and is now the sole provider of lettuce to the Nassau County School District.

The school district performed a taste test between Traders Hill Farm and the lettuce they were previously using.

"They found that the other lettuce produced about a 45-55 percent shrink (or waste) whereas our lettuce was no more than five percent," said Nazzaro. "So not only were the students eating more lettuce, the district wasted less food by switching to us. Teachers like it, too. They have told us they feel good about what they're eating."

Nazzaro said she hopes the partnership with the Nassau County School District sets the stage for additional school district partnerships. The farm would like to also create animated videos that show the younger students where their lettuce comes from bringing the farm-to-table concept to a younger generation. As the students progress to middle and senior high school, she'd like to invite the students for field trips, then eventually those who pursue science fields in college can intern.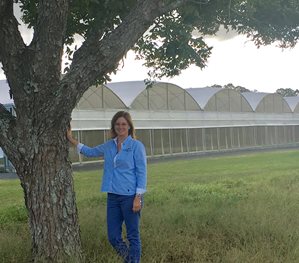 Nazzaro is not one to rest on her laurels.

"We're getting really good at perfecting our lettuces, and would like to diversify our income stream. We're looking at microgreens, which is really popular among high-end restaurants" explained Nazzaro. Microgreens are petite, edible greens grown from the seeds of vegetables and herbs and are typically more intense in flavor than mature greens, such as lettuce.

"There are definitely some things we want to test-drive during 2018. As we penetrate the market and get a good customer base, we'll keep putting new things out there."

While the Jacksonville, Florida area is currently Traders Hill Farm's nucleus, the company, through their distribution partner, The Garden, reaches north to Savannah, Georgia, west to Tallahassee, down into Gainesville and south to Daytona, Florida.

"The goal is to become a formidable regional player, so I'm going to keep expanding that circle," said Nazzaro with a smile. "To reach the Atlanta market would be very intriguing. Traders Hill is a great place to work and we have done a lot of work to foster our farm family."