Women's History Month: Hilliard Pharmacy & Gifts
March 24, 2023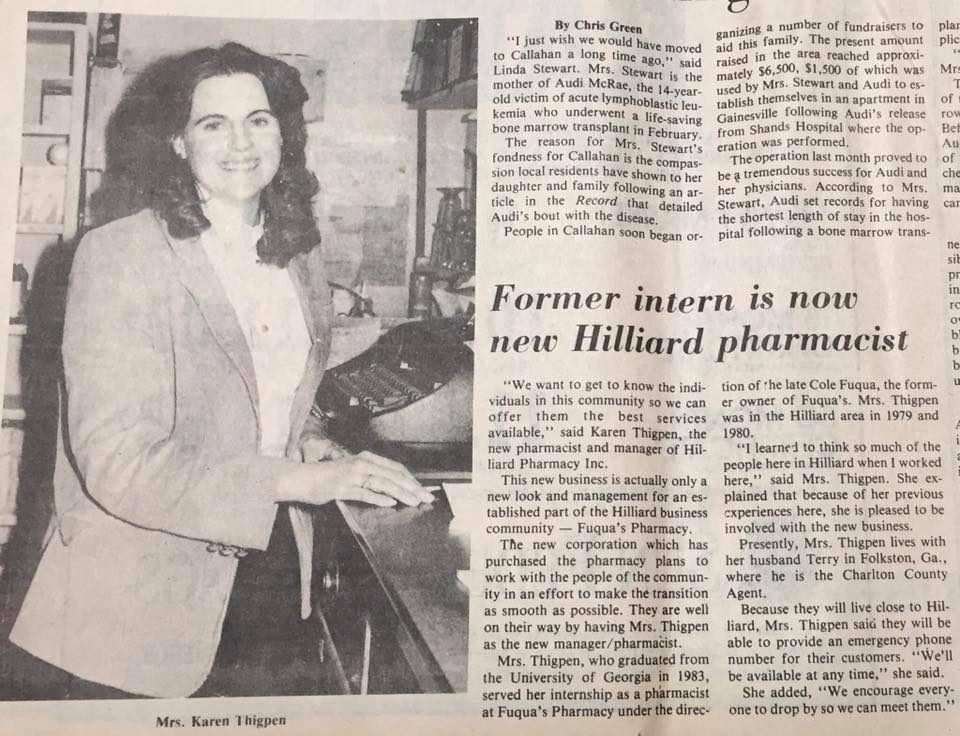 In the 1930s, the Fuqua Family opened the original pharmacy, Fuqua's Pharmacy. When Mr. Fuqua passed away in 1984 without any children interested in buying the historic business, Karen Thigpen was offered the opportunity to go into business with her partner, Marion Wainwright, to take over the pharmacy. Karen had recently passed her pharmacy boards in 1983 and was slightly nervous about running a pharmacy with relatively little experience, but knew it was a once-in-a-lifetime opportunity and took the leap! Karen had done some of her internship hours with Mr. Fuqua while in pharmacy school, so she already knew many of the members of the community. Karen and Marion officially took over the business in 1984 at its original location but moved to the current location in 1989 for more space and better parking.
The Pharmacy also features a vast array of gifts, clothing, and a certified florist. Karen explained that they wanted to expand to meet the needs of the community. Many Hilliard residents would have to travel to Callahan or even Jacksonville to get things such as gifts for birthday parties or flowers for events. Now, with its floral department and an assortment of goodies available, it is a one-stop shop for the community.
The Pharmacy has two relief pharmacists and employs around 11 people in total, including a number of high school students that work part-time. Karen explained how much joy it brings her to be able to employ and mentor young people that come to work there. She believes in teaching them about the responsibility of having a job and taking pride in your work, but she truly values showing them the importance of treating customers and the community with respect. According to Karen, "learning how to treat people is a necessary lesson for these young people and is something that working with the public teaches you very quickly." Some of the students work part-time after school. While others do it for credit through their work-based learning programs at the high school.
What is it like to own and operate a business in Nassau County?
The community is supportive and there is always room for growth here. We welcome new families and new patients with open arms. Service is the most important aspect of our business, along with the health and well-being of all of our patients.
What are your feelings about the growth happening in Nassau County?
I think it's happening, whether people want it or not. I have always seen the potential in this community, and it does seem to be expanding. With new housing developments and an increase in traffic, we may just get another traffic light!
We want to thank Karen for taking the time to speak with us. Hilliard Pharmacy & Gifts is definitely a one-stop shop! Be sure to follow their social media pages where they are always updating you on what's new.