Nassau County: Where Industry Makes History
Nassau County, Florida is ripe with history and it is our history that serves as the impetus for our current success and future growth. Since David Yulee constructed the first cross-state railroad linking Fernandina Beach to Cedar Key, on Florida's Gulf Coast, logistics has played a large part in our county's economic success. Today that is evident in the Crawford Diamond Industrial Park, a McCallum-Sweeney certified industrial mega-site where CSX and Norfolk Southern rail lines intersect. When Europeans first settled in Nassau County, the St. Marys River to our north and the Nassau River to the south served as early transportation routes for commerce and trade. Today, the deep-water Port of Fernandina serves as an international gateway for businesses throughout Nassau County and the Southeast.

Where tourism and industry live in harmony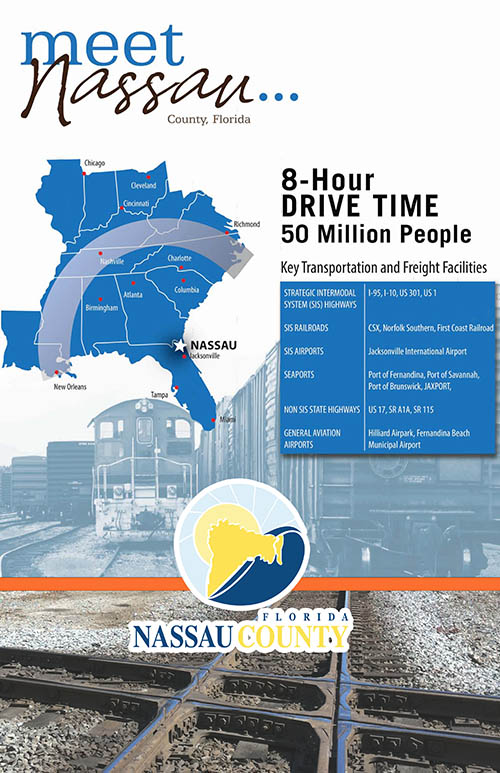 The Gilded Age of the late 1800s gave rise to an influx of tourists on Amelia Island. Today, Amelia Island continues to welcome vacationers to our world-class resorts, the Omni Amelia Island Plantation and the Ritz-Carlton, Amelia Island, along with numerous bed and breakfasts.
Location, location, location
Situated on the northeast coast of Florida, Nassau County affords businesses a low-tax climate and access to over 60 million consumers within an eight hour drive. I-95 is the main north-south artery along the Eastern seaboard, while I-10 connects Nassau County to points west.


Workforce – Nassau County falls within the Jacksonville MSA with over 1.6 million residents and a workforce of over 837,000 working-age adults. We are equidistant to four military installations – Naval Submarine Base Kings Bay, Naval Station Mayport, Marine Corps Support Facility Blount Island, and Naval Air Station Jacksonville – with 3,000 skilled veterans returning to the private sector and choosing to stay in our region. The military veterans of Northeast Florida and Southeast Georgia make up 14 percent of the region's workforce, compared to seven percent for the U.S. overall. Our local military members receive up-to-date industry training, possess a strong work ethic, and present employers with skills transferable to manufacturing, logistics and distribution, aerospace, and aviation, among others.


Infrastructure – Connect your business to the nation and world with access to an extensive highway system including I-95 and I-10, CSX and Northfolk Southern's far-reaching rail network, the Jacksonville International Airport, and the deepwater Port of Fernandina Beach, whose channel allows for quick access to and from the ocean...only 45 minutes from dockside to the open ocean.

Live the good life - We're more than just a great tourist destination. Our residents enjoy an inviting climate that allows for a year-round outdoor lifestyle and a wide range of recreational opportunities, arts and culture, housing options, and community character.