Success Stories
Rayonier Advanced Materials - A History of Success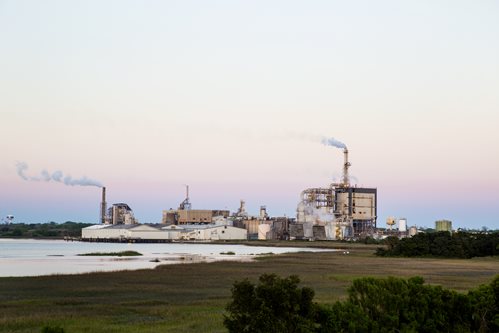 Rayonier Advanced Materials (NYSE: RYAM) is a leading global supplier of high-purity, cellulose specialties natural polymers for the chemical industry. For the past 75 years, the company has had a strong Nassau County presence with its Fernandina facility, the company's first plant in the southeast.

Rayonier Advanced Materials uses locally sourced wood to manufacture customized, high-purity performance fibers at its plants in Florida and Georgia. These unique fibers are used by the chemical industry to create base materials for other manufacturers. With intellectual property and manufacturing processes that have been developed over 85 years, RYAM's products are known for their high quality and consistency.
RYAM's Fernandina plant currently produces up to 160,000 metric tons of cellulose specialties products annually for use in a wide range of industrial and consumer products such as filters, cosmetics and pharmaceuticals.
The company is consistently ranked among the nation's top 50 exporters and delivers products to 79 ports around the world, serving customers in 38 countries across five continents.
The Fernandina plant opened in 1939 in downtown Fernandina, at the end of the Great Depression and right before World War II. Times were tough in Fernandina in those days. The plant's construction, which got underway in 1936, and the opening of the Container Corp mill that same year ignited a renaissance for the area and the birth of the city's working waterfront.
While timbering had been underway in Florida for decades with turpentine production as the state's second leading industry (after citrus) in the early 20th century, the pulp industry was a newcomer. "The recent movement of the pulp and paper industry into the South has brought a new profitable industry to Florida," read a 1937 state Department of Agriculture brochure.
At that time, Rayonier was heavy into viscose production of rayon, a natural raw material that was growing in popularity, and the new Fernandina plant was constructed to meet rapidly-growing demand in Japan. With the completion of the plant's construction in 1939, World War II erupted shortly after the plant went online and the sale of goods to Japan was cut off. The War Production Board took over the operation of the plant and it was repurposed to produce nitrocellulose that was used as an ammunition propellant. Today, the company, a global powerhouse in the cellulose specialties industry, looks to innovation to drive its future success.
In early 2015, leaders of Rayonier Advanced Materials, Chesapeake Utilities and Florida Public Utilities broke ground on the new Eight Flags LLC combined heat and power (CHP) plant that will be built on RYAM's Fernandina plant property.
Fueled by natural gas, the CHP plant will generate 20 MW of power, providing sufficient base load power for FPU's Amelia Island customers. In addition to leasing land to Eight Flags, LLC for the project, Rayonier Advanced Materials entered into a 20-year agreement to purchase low-cost steam from the facility that will provide operational flexibility for the Fernandina plant. The new CHP plant is expected to be operational in mid-2016.
In June 2015, the company announced it had entered into a non-binding letter of intent with Borregaard ASA to study the formation of a joint venture at its Fernandina Beach facility for the manufacturing, marketing and sales of natural lignin-based products. If the $110 million project is approved and moves forward, it would be expected to add 30 to 70 highly paid manufacturing jobs in Nassau County.
The new company, located on Rayonier Advanced Materials' property, would be owned 45 percent by RYAM and 55 percent by Norway-based Borregaard ASA, the global leader in lignin sales. Lignin, a natural component of wood, is a coproduct of RYAM's cellulose specialties manufacturing process and is currently used by the facility for its energy value. The planned joint venture would process the lignin into higher value products that provide environmentally friendly alternatives to petroleum-based chemicals used globally in construction, agriculture and other industrial applications.
"This partnership between Rayonier Advanced Materials, the world's leader in cellulose specialties, and Borregaard, the global leader in lignin-based products, is significant for both companies," said C.A. McDonald, general manager of the Fernandina plant. "For us, the project will give us instant access to untapped lignin markets and advance our strategy of leveraging the value of our assets and coproducts, while further enhancing the competitive position of our Fernandina plant."
The project is anticipated to be completed in two phases over five years. The parties estimate an aggregate capital investment of $110 million for a capacity of 150,000 metric tons per year. The first phase is expected to commence commercial operations in 2017.
Nassau County is proud to be home of Rayonier Advanced Materials' Fernandina plant and its more than 300 employees.