Fernandina Beach Educator Jennifer Albert Honored with Milken Family Foundation National Award
November 28, 2018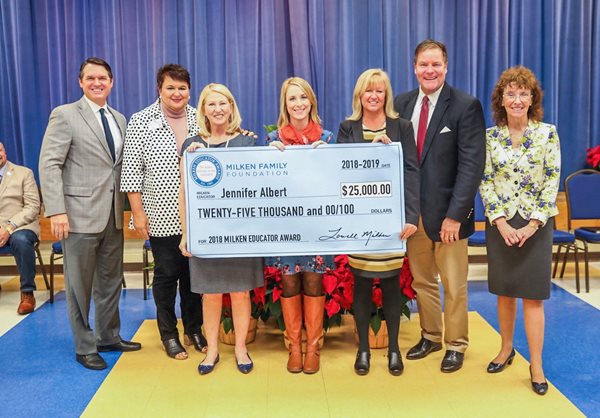 Jennifer Albert, a fifth grade science and mathematics teacher at Emma Love Hardee Elementary School, was honored by the Milken Family Foundation during a surprise announcement for her dedication and commitment to providing students with a high quality education. Albert joins an elite group of educators as one of only 40 nationwide to receive this year's award.

"Congratulations to Jennifer Albert on receiving this prestigious award from the Milken Family Foundation," said Commissioner of Education Pam Stewart. "I have had the opportunity to witness firsthand her passion for educating Florida's future generations. She has an impressive ability to impact positively her students and to form strong positive relationships with their families. She possesses many outstanding qualities that make her an excellent role model for all educators, and it was a pleasure to recognize her today."

The Milken Family Foundation is celebrating 31 years of surprising and rewarding teachers. Dr. Jane Foley, Senior Vice President of the Milken Educator Awards and a 1994 Indiana Milken Educator, made today's announcement at Emma Love Hardee Elementary School.

"Inspirational teachers like Jennifer Albert do whatever it takes to improve the lives and futures of their students," said Milken Family Foundation Vice President Dr. Jane Foley. "Science, math and creativity comingle mightily in her classroom where active learning lights the way to better opportunities, outcomes and lives."

Jennifer Albert has been an educator for 17 years, and she is currently a fifth grade science and mathematics teacher at Emma Love Hardee Elementary School. She was named Nassau County's Teacher of the Year in 2014-15 and has been identified as a Nassau County Model Teacher. She has been serving as the fifth grade chair for the past four years. She uses data to drive her instruction while differentiating each student's individual needs. Albert has embraced the growth mindset concept and continues to help her students and colleagues achieve success.


"Jennifer Albert is a dedicated educator who works diligently to ensure the success of every student every day," said Dr. Kathy Burns, Superintendent of Nassau County School District. "She builds positive relationships with her students, their families, and her peers. The data is just one more indicator of her overwhelming success! We are fortunate to have her as a teacher, leader, and model of Excellence in the Nassau County School District."

Described as the "Oscars of Teaching," the Milken Educator Awards provide recognition and unrestricted financial awards of $25,000 to exceptional elementary and secondary school teachers, principals and specialists who are furthering education excellence.
New recipients are invited to join the Milken Educator Network, a nationwide group of distinguished educators whose expertise serves as a valuable resource to fellow educators, legislators, school boards and others shaping the future of education. Florida has had 43 educators recognized with the Milken Award since 1998.

In addition to participation in the Milken Educator Network, 2018-19 recipients will attend a Milken Educator Forum, March 21-24, in New Orleans. Educators will have the opportunity to network with their new colleagues and hear from state and federal officials about the importance of maximizing their leadership roles to advance educator effectiveness.

For more information about the Milken Educator Awards, visit www.milkeneducatorawards.org/.

For more information about the Florida Department of Education, visit www.fldoe.org.