FSCJ Nassau Center Receives Florida Job Growth Grant to Support Commercial Vehicle Driving Program Expansion
December 21, 2021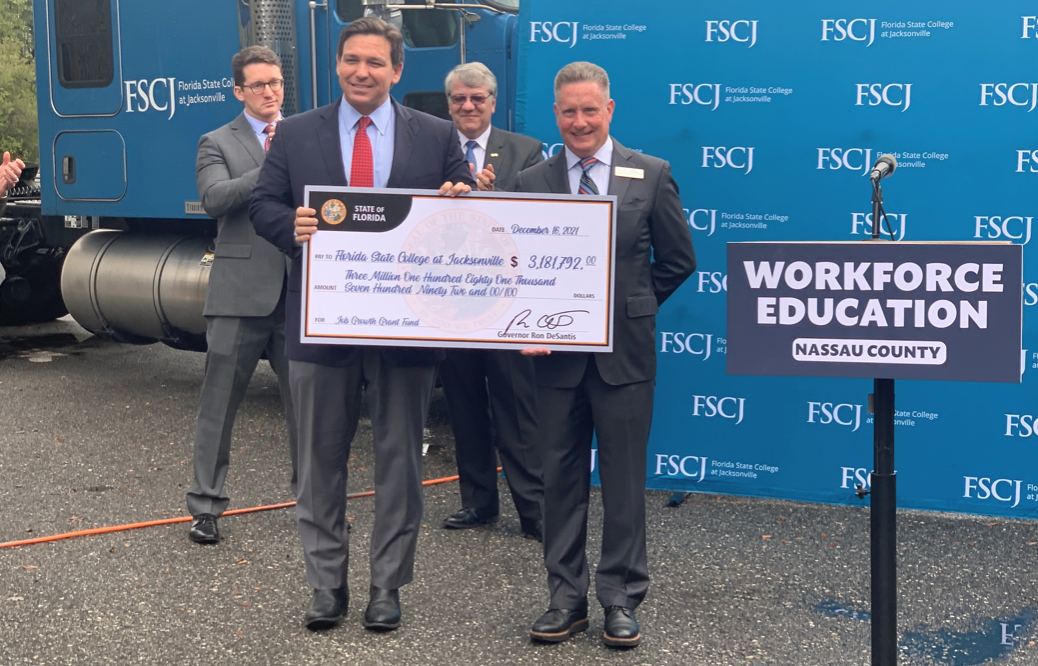 Fernandina Observer - Fernandina Observer - Fernandina Beach Daily News
Florida State College at Jacksonville (FSCJ) received a $3,181,791.70 Florida Job Growth Grant from the Florida Department of Economic Opportunity (DEO) and Enterprise Florida to support the Nassau County Transportation Education Institute. Governor Ron DeSantis and DEO Secretary Dane Eagle visited FSCJ's Nassau Center on Thursday, December 16, 2021, to announce the grant award which will allow the College to establish a designated truck driving training facility at the Nassau Center.
Although there is a rapidly growing demand for drivers in Nassau County and surrounding areas, until now, there have been no state colleges that offer workforce certification training in Nassau County for these jobs. FSCJ has had a Commercial Vehicle Driving training program at its Cecil Center since 2007, and this grant will help FSCJ expand its offerings and support of workforce needs.
"Thanks to the Governor's leadership, Florida continues to create and drive economic opportunities geared to advance business and our workforce at a critical time in our history," said FSCJ District Board of Trustees Chair Mike Bell. "We appreciate Governor DeSantis for recognizing this need and providing the grant support that will help establish this first-of-its-kind workforce training resource right here in Nassau County that will prepare individuals to step into and excel in essential roles."
By the end of the three-year project period, the goal is that 463 students will have enrolled in training programs and the Nassau County Transportation Education Institute, thanks to the acquisition of enduring equipment and sustained training components. These program graduates will also have a continued return on investment through their economic, workforce and social impact in the community over the next decade.
"Knowing that our area is among the best for logistics infrastructure thanks to our proximity to deep-water ports, major interstates, railroads and an international airport, we are excited to help expand the opportunities and outlook for the logistics and transportation industry," said College President John Avendano, Ph.D. "With the support of our strategic partnerships across Nassau County and this significant grant, the Nassau County Transportation Education Institute will allow job training and placement opportunities for our students and will boost the economic future of this great community."
For information on FSCJ's Commercial Vehicle Driving Career Certificate program, visit fscj.edu/academics/areas-of-study/imc/commercial-vehicle-driving-cc.