How the Wildlight community Rayoniers growth is modernizing Nassau County
February 5, 2018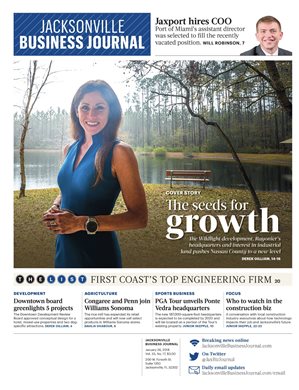 This story was written by Derek Gilliam, Reporter for the Jacksonville Business Journal and published on January 26, 2018

Patience. Endurance. Strategy.

If you talk to Laura DiBella, the executive director of the Nassau County Economic Development Board, these are key to both her profession and what she does for fun, which is to run marathons.

"Racing in a marathon is a great metaphor for what we do at NCEDB – the process is methodical, requires strategy and it demands precision throughout," she wrote in her blog. "You start the race, establish a steady pace and your position – all the while monitoring and analyzing the competition field, in addition to your own vitals. You adjust your pace according to your reaction to the impact and you sit on your competition until the time comes to capitalize on their weakness. Stealth discipline owns the moment."

For the past three years, DiBella has worked in stealth with the county's other economic development professionals to put the largely rural community in a position to capitalize when the moment presents itself.

That time may be soon.

A 25-minute drive north of downtown Jacksonville, sleepy Nassau County with its 80,000 residents doesn't seem so sleepy anymore.

The town of Yulee is on the verge of a commercial and residential boom driven largely by Rayonier Inc., which has moved its 55,000-square-foot headquarters to the center of a community it plans to develop over the next decade.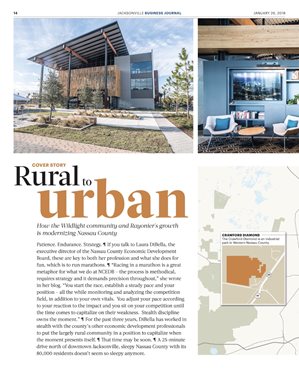 The company has cleared roughly 100 acres for commercial uses surrounding its headquarters, with the pads being actively marketed by Jacksonville commercial real estate firm Cantrell & Morgan.

Sprouting up around the commercial development will be the residential community of Wildlight, which has launched a Facebook marketing campaign touting high-speed internet "10-20 times faster than today's standard hookup."

The ads note the benefit fast internet speeds can have on business.

And to the far western reaches of the county at the Crawford Diamond Industrial Park, DiBella has seen increasing interest from potential tenants for the undeveloped site, noting in a December memo to her board three codenamed projects that could kick off development of the site.

These projects are all signs that economic development of Nassau County, which had just 58,000 people living in its boundaries in 2000, has made strides toward shedding its designation as a bedroom community to Jacksonville.

Planting the seed

Economic development and real estate professionals point to less regulations resulting in a lower cost of construction, combined with its emerging economy as other reasons this gateway to Florida may be poised for development.

While St. Johns County gets most of the press for having strong schools, Nassau passed St. Johns in 2017 to become the best performing school district in the state, with its students outperforming 95.4 percent of Florida's other counties.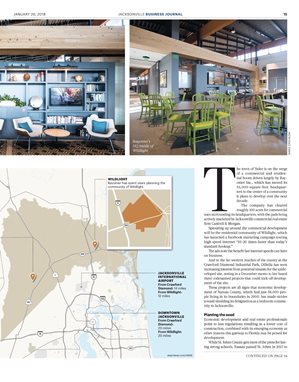 The county also boasts much lower impact fees when compared to other counties in the area.

One of the signs that Nassau County is growing up can be seen along Florida A1A, where Rayonier Inc.'s 55,000-square-foot, three-story-tall headquarters was completed in 2017.

It's a modern design but still features a rustic feel through the use of stained steel and a liberal use of wood finishes throughout the building.

When choosing where to construct the $13 million office building, executives at the company choose 20 miles north of Jacksonville in Nassau County in an area where pine trees far outnumber people.

The decision was years in the making, as the world's largest timber-focused REIT has been planning a massive development in the center of Nassau County on some of the 2.7 million acres it owns throughout the country.

While Dibella describes her job as long-term strategy, Chris Corr, senior vice president of real estate and public affairs at Rayonier Inc. as well as president of Wildlight developer Raydient Places + Property, views the company's project at Wildlight as setting the table for further development in the future.

Florida Public Utilities Co. will build an 18,000-square-foot corporate headquarters next to Rayonier's office building, the developer announced Thursday. That company had been headquartered in Fernandina Beach and provides electrical services to roughly 120,000 customers in the state.

Corr talks about infrastructure and workforce training with the same level of passion as DiBella does about attracting heavy industrial users and speed to market.

"Our approach here is very long term and very comprehensive," he said. "There's not one thing that's happening, but multiple things that when taken all together will evolve this part of the region."

Wildlight is part of a 2,900-acre project that will unfold over dozens of years, Corr said, with the property having development rights for 3,200 residential units and 7 million square feet of office, industrial and retail space.

But the project is not just on paper anymore.

"There's quite a bit of critical mass there now," he said

One project underway will have UF Health occupy two medical office buildings totaling more than 29,000 square feet of office space on a 6.4-acre site along Florida A1A.

A marketing flyer from Cantrall & Morgan shows potential uses of apartments, a daycare, corporate offices, multi tenant buildings, healthcare offices, private schools, a hotel, a grocery store and mixed-use buildings all being developed by 2020.

Joseph Lentz, a representative of Cantrell & Morgan marketing the property, sees Wildlight as the catalyst for economic development in Nassau County, while declining to identify any of the tenants that have shown interest in the project.

"There's been tremendous interest in the project," he said. "We're talking to traditional retailers, restaurants, financial institutions, big medical interests, hospitality components, religious organizations, office users, multifamily, childcare, education, I mean the list goes on."

Reaping the benefits

But while Wildlight with its residential retail-focused construction are signs of economic development, they won't achieve one of DiBella's main goals — adding high-paying jobs that allow families to thrive in Nassau County.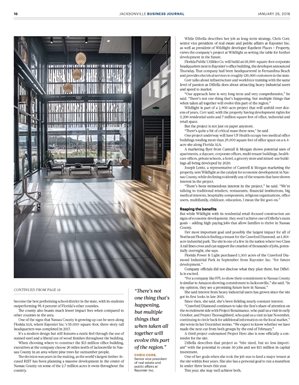 Her most important goal and possibly the largest impact for all of Northeast Florida is finding a tenant for the Crawford Diamond, an 1,814-acre industrial park. The site is one of a few in the nation where two Class A rail lines cross and can support the creation of thousands of jobs, potentially overnight, she says.

Florida Power & Light purchased 1,300 acres of the Crawford Diamond Industrial Park in September from Rayonier Inc. "for future development."

Company officials did not disclose what they plan there, but DiBella is excited.

"For a company like FPL to show their commitment to Nassau County is similar to Amazon showing commitment to Jacksonville," she said. "In my opinion, they see a promising future here in Nassau."

She said interest from heavy industrial users has grown since the site got its first looks in late 2015.

Since then, she said, she's been fielding nearly constant interest.

"Crawford Diamond continues to take the lion's share of attention on the recruitment side with Project Renaissance, who paid us a visit in early October, and Project Thoroughbred, who paid us a visit in late November, continuing to circle back for additional information on the local market," she wrote in her December memo. "We expect to know whether we have made the next cut from both groups by the end of February."

A third project codenamed Project Hero also is now officially a contender for the site.

DiBella describes that project as "bite sized, but no less important" with the potential to create 30 jobs and see $15 million in capital investment.

One of her goals when she took the job was to land a major tenant at the site within four years. She also has a personal goal to run a marathon in under three hours this year.

This year, she may well achieve both.