Port of Fernandina Announces New Service
February 12, 2019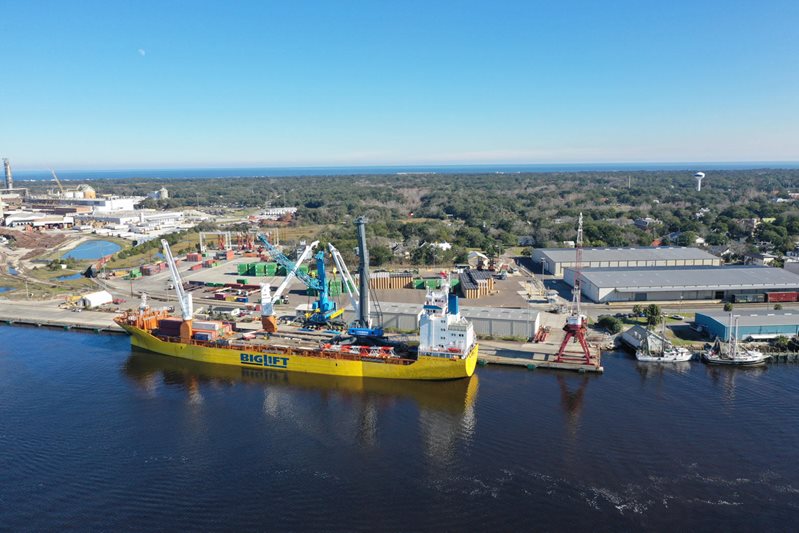 Worldwide Terminals Fernandina LLC ("Worldwide") is pleased to announce they have concluded a deal to launch a new monthly vessel service at the Port of Fernandina. The new service will be operated by SDW Shipping BV, a private shipping company based in the Netherlands. The first vessel call at Fernandina will commence in April of 2019.

The service will feature general cargo vessels of approximately 15,000 Gross Tons, encompassing break-bulk, project and heavy lift cargo, and containers.

The service will originate in Uddevalla, Sweden, and call Bilbao, Spain before making its way into Fernandina for discharge of lumber and steel. It will then load back cargo, potentially call at ports in Guatemala or Costa Rica, and then transit the Panama Canal destined for the West Coast of South America. Ports of call will include Buenaventura, Columbia, Callao, Peru and Arica and Iquique in Chile, where it will discharge and load back cargoes for Fernandina.

Christopher T. Ragucci, Chief Executive of Worldwide Terminals Fernandina remarked, "We are excited about this new service as it renews the historical connection between Fernandina and Europe. Equally important, this agreement allows us to build upon our niche as a "mini-hub" for Central and South American trade to-and-from North Florida and the entire Southeast Atlantic region."

Mr. Ragucci also cited other recent accomplishments at the Port, including the successful negotiation of a 34-year Operating Agreement with the Ocean Highway Port Authority ("OHPA") in November of 2018 and the acquisition of the Liebherr Mobile Harbor Crane (the "Crane"). The Crane, which was delivered to the Port in January 2018, supports "the continued growth and expansion of the Port's operations and is clear evidence that Worldwide has already commenced its long-term capital improvement plan for the Port."

The Port of Fernandina's Operator, Nassau Terminals, LLC was acquired by Worldwide Terminals Fernandina, LLC in February 2018.

The terminal currently handles paper and forest products exported to the Caribbean, Central and South America by companies such as Barnett Paper, WestRock and Caribbean Forest Carriers as well as project cargo and containerized cargo. It also serves as homeport for Somers Isle Shipping's containerized service to Bermuda, now in its 33nd year. The terminal handles imported forest products from Asia, Brazil and Scandinavia, as well as certain bulk commodities.

Plans call for an additional capital investment of $15 million in the coming years to modernize the Port's facilities including additional cranes and cargo handling equipment, as well as a berth extension and an on-dock paper warehouse to better accommodate our customers. The Port currently has 250,000 square-foot on-port warehouse facilities, over 100,000 square-feet of off-port warehouse facilities, and daily on-dock rail service. It has a fully-certified Container Freight Station, and the Port will be adding Foreign Trade Zone designation as well.

Worldwide Terminals Fernandina has an experienced workforce that offers turn-key services including freight-forwarding, trucking, warehousing and distribution management and is capable of handling bulk, break-bulk, project cargo, containerized and refrigerated cargoes, as well as steel and lumber. Worldwide Terminals Fernandina is an ideal multi-purpose port, located less than two miles from the open ocean, offering the most cost-efficient service in the Southeast region. The Port currently has significant trade with South America, the Caribbean, and Bermuda, with expanding activity into Europe and Asia.