Port of Fernandina welcomes U.S. Secretary of Commerce Wilbur Ross
May 21, 2019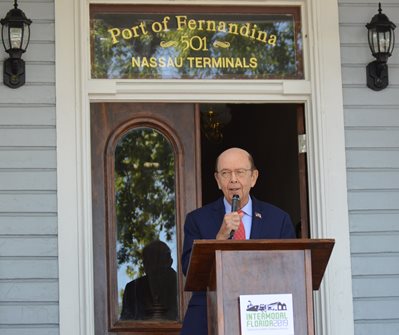 Economic development in Nassau County, Florida was a highlight at a recent event at the Port of Fernandina featuring U.S. Secretary of Commerce Wilbur Ross as the guest of honor. In addition to economic development, Secretary Ross's visit aimed to highlight opportunity zones and increasing exports of agricultural and other products through the Port.

Welcoming Secretary Ross was Worldwide Terminals Fernandina President and CEO Christopher Ragucci and Laura DiBella, Executive Director of the Nassau County Economic Development Board and the Port of Fernandina Beach Director.

Worldwide Terminals took over operations of the Port of Fernandina late 2018 and according to Ragucci have invested $12M to modernize port facilities and operations. The Port of Fernandina is primarily an export operation.

In welcoming Ross to Nassau County, Laura DiBella used her favorite phrase - "We're rural with a Ritz (Carlton)." While Nassau County has a rural county designation, it has experienced a surge in manufacturing and healthcare in recent years. In addition to the Ritz-Carlton, Amelia Island, Nassau County offers countless accommodations including a new Marriott at Wildlight in Yulee set to open in 2020; tourism is a thriving industry in Nassau County.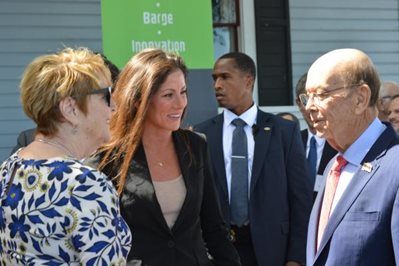 DiBella spoke of the benefits that will enhance operations at the Port of Fernandina with approval of the M-95 designation and beginning barge operations throughout the Southeast. DiBella and Ragucci noted that with the expected growth, the port would add more workers to its payroll.

"The visit by Secretary Ross emphasizes the increasingly significant role the Fernandina Port is playing in making this community a gateway for global trade, particularly with South America, Europe and Asia, the benefits of public-private partnerships, and in the increasing economic importance of Nassau County and surrounding areas," says Port Director Laura DiBella.

The Port of Fernandina is a rail-served, natural deep-water port on the Atlantic seaboard, just 2.2 miles from the open ocean; and handles a variety of cargo, including steel, aluminum, machinery, paper and forest products, and consumer goods. The Port boasts 250,000 square-feet of on-site warehouse space, 100,000+ square-feet off-port, and 10 acres of open storage, all which sits minutes away from A1A/SR 200 highway enabling easy access to both Interstates 95 and 10.

When Secretary Ross stepped to the podium, he lauded the county's economic growth while highlighting capital projects planned for the port - a deepening of its shipping channel to 40 feet, adding 100,000 sq. ft. of warehouse space and installing two new cranes - all of which will give the port the ability to double its cargo volumes.

Ross was thrilled that the Port of Fernandina exports more than it imports with just over 69 percent of the port's cargo being export. "We in the U.S. government want to make sure full containers coming into our ports don't leave empty," said Ross. "We want them leaving just as full." He was met with a round of applause when he proclaimed, "Export products, not jobs!"



Ross highlighted some accomplishments of the current administration, citing the creation of opportunity zones, a designated incentive area to attract businesses to low-income areas. Opportunity zones can be found in every county in Florida, with Nassau County's opportunity zone located in Yulee.

A Florida native, Ross extolled his home state's exceptional economic success. Florida's trillion dollar economy would be the 17th largest national economy in the world. He called Florida's $1T GDP "phenomenal." Ross cited the current administration's efforts to encourage businesses to reinvest in America.

During his speech, Ross addressed the problem of the skilled labor shortage, noting that there are now more unfilled jobs in America - 7.1 million than there are Americans without jobs - 6 million.

DiBella echoed his concerns adding that workforce development is a top priority for the Nassau County Economic Development Board. She and her team work closely with local and regional businesses and schools to address current needs and look to anticipate future demands. The organization has created several task forces, formed the Nassau Industry Network, and hold educational workshops.