Royal Amelia Dance Academy Coming to Wildlight
October 15, 2018

Skinner Bros. Realty announced that the Royal Amelia Dance Academy (RAD), will be the third tenant added to the real estate developer's commercial building in Wildlight. Earlier this year, Skinner Bros. Realty purchased a three-acre parcel at the corner of Wildlight Blvd. and A1A to construct the first multi-tenant retail space for the new town in Nassau County.

"We are pleased to welcome the Royal Amelia Dance Academy to our retail complex currently under construction in Wildlight," said Chet Skinner, vice president of Skinner Brothers Reality. "The Royal Amelia Dance Academy has a long history of bringing the arts to Fernandina Beach residents. We are confident their next location's high-quality classes and programming will appeal directly to future Wildlight residents and community members alike.

The studio in Wildlight will be RAD's second location in Nassau County and will encompass a 1,300 sq. ft. modern industrial space with a professional dance floor, walls of mirrors and barre system. For more than 12 years, RAD has been providing a full range of dance classes, drama and musical theater instruction and acrobatics training to children, teens and adults. During the Summer, RAD also offers four one-week summer camps for children ages 4-12 to experience theater, acting, dancing, singing and art.

"The Royal Amelia Dance Academy's mission has always been to instill a lifetime of love and appreciation for the arts within every child," said Alexandra Carroll, artistic director and owner of the Royal Amelia Dance Academy. "By building our second studio in Wildlight, we have the opportunity to bring our passion for movement, from ballet to ballroom dancing, to even more individuals in the growing Northeast Florida community."

In addition to RAD, the multi-tenant retail space will also include Cold Stone Creamery and Tasty's fresh burgers and fries. The studio is expected to open next year.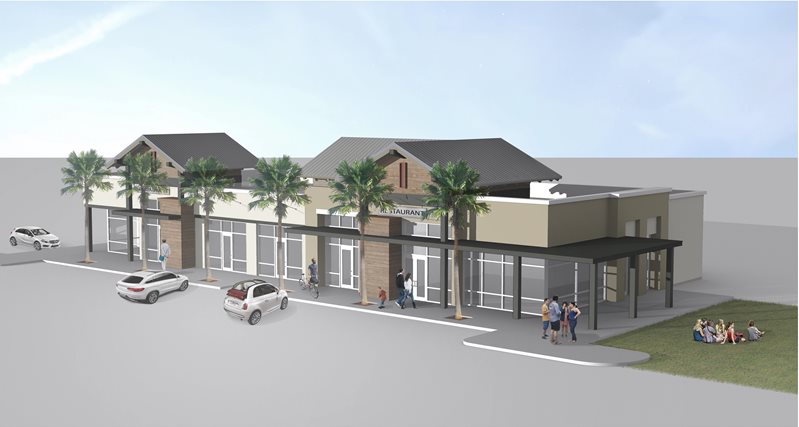 Initial rendering of Skinner Bros. Realty's multi-tenant retail building for Wildlight. Renderings are subject to change. Images provided courtesy of Skinner Bros. Realty.