Skinner Bros. Realty Opens New Multi-Tenant Complex in Wildlight
September 30, 2020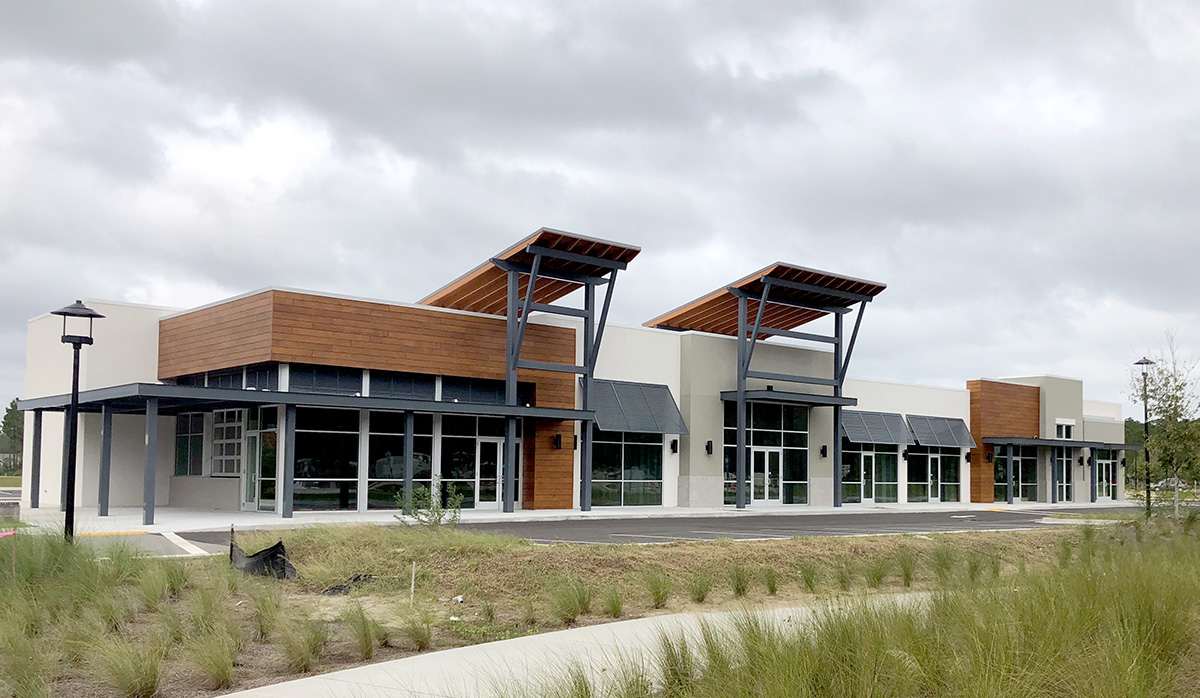 The Nassau County master-planned community continues commercial development and community growth amidst pandemic
WILDLIGHT, Fla. (Sept. 29, 2020) – Skinner Bros. Realty is expanding in Nassau County with the completion of its second multi-tenant retail complex in Wildlight. The new mixed-use retail and restaurant space will continue to transform the master-planned community's central Village Center, with new tenants slated to open winter 2021.
"The pandemic has maximized Wildlight's need for more convenient access to service retail," said Chet Skinner, vice president of Skinner Bros. Realty. "As Nassau County continues to grow at an impressive rate, especially in the area near Interstate 95, there is increased demand for services that retain homebuyers. Our newest retail complex strengthens the appeal of the Wildlight market by providing access to additional amenities and everyday services that area locals desire close to home."
Skinner Bros. Realty began construction on the commercial complex located at 40 Homegrown Way in early 2020 and finished development in September 2020. The new mixed-use building is an extension of The Village Center's first multi-tenant complex that opened early last year, adding 11,670 square feet of additional retail and restaurant space. It is designed to capture the inspiration of an open-air market with spaces that flow into each other, including an outdoor courtyard and covered dining area.
Skinner Bros. Realty leased the building's available space to four tenants that will begin buildout this fall and join a cohesive mix of hospitality and lifestyle services at The Village Center. Family-owned restaurant Anejo Cocina Mexicana will bring fresh, from-scratch dishes and an upbeat atmosphere to the area, expanding from its current Ponte Vedra Beach location and new planned location in the Brooklyn neighborhood near downtown Jacksonville. Hana Sushi & Asian is a fast-casual service concept that will offer Asian fusion cuisine and sushi, blending fresh ingredients with exotic flavors.
Additional tenants confirmed to open at the site include DEP Nail Salon, a luxury salon that will offer nail, eyelash extension and waxing services, and Firehouse Subs, a locally founded fast-casual restaurant chain that will bring hot specialty subs and more. They'll join Royal Amelia Dance Academy, Great Clip's, Cold Stone Creamery and Tasty's Fresh Burgers and Fries, all of which opened last year at The Village Center.
"We're very pleased to continue working with the talented Skinner Bros. Realty team to further define Wildlight as an ideal place to live, work and play," said Chris Corr, president of Raydient Places + Properties. "Their deep understanding of North Florida's real estate market has helped us ensure the community remains a safe and quality investment for residents and future homebuyers by providing the conveniences of an established town with a rich mixture of amenities at The Village Center and beyond."
In addition to the new multi-tenant complex, Wildlight recently began development on its second neighborhood, Forest Park. The growing neighborhood will bring more than 120 desirable homes to the master-planned community by nationally recognized builders Mattamy Homes and Riverside Homes. Yulee KinderCare and St. Clare Early Learning Center also opened in Wildlight this summer, providing additional early education and faith-based learning opportunities for the area. The UF Health Rehabilitation – Wildlight center is slated to open in October 2020, which will offer residents a new style of healthy living.
For more information about Wildlight, please visit www.wildlight.com.