Women power much of First Coasts commercial real estate deals
May 23, 2016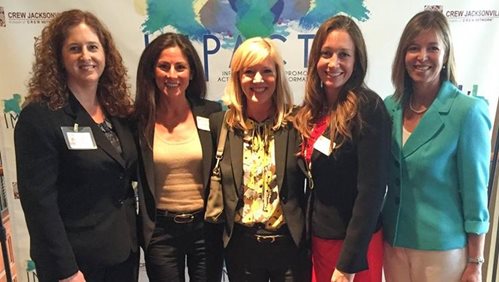 Some of the region's largest real estate transactions have been put together by women — both in brokerage and economic development.
CREW — Commercial Real Estate Women — Jacksonville spotlighted this fact Wednesday at The River Club with an event "Women Making the Deals" where Jacksonville brokers Traci Jenks and Kaycee Gardner joined economic development professionals Melissa Glasgow, Cathy Chambers and Laura DiBella to talk about the local real estate market.
Both Gardner and Jenks deal largely in the office market and the discussion started there. There's a lack of large blocks of space in Jacksonville that could make it difficult for the city to attract companies to the city.
"It's definitely concerning," Jenks said. "… there's very few [blocks] in the 100,000-square-foot range."
She said the low vacancy rates in suburban office markets will lead to increased rent rates, but Downtown rates should stay competitive as there's still several large blocks available.
Gardner said JLL is tracking nine clients over 100,000 square feet. The question, she asked, is whether the lack of large blocks in the suburbs will push prospects toward Downtown or will it push them to other cities?
"What you're probably going to see is a little bit of both," she said.
Gardner said that the current prospects are largely back-office users, which has been Jacksonville's bread-and-butter — relative newcomers, Ernst & Young is a prime example. The company chose Jacksonville to expand its support services division by 450 employees in March.
DiBella, executive director for the Nassau County Economic Development Board, spoke at length about her county's "new city," which is a master planned community that is twice as large in developable land as Nacotee at Interstate 95 and U.S. Highway A1A.
"That's going to be our future central business district," she said.
Development rights have been granted with about 6.8 million square feet of commercial space allotted. Nassau County has granted development rights for 11 million square feet of industrial space.
Glasgow, the executive director for economic development in St. Johns County, talked about the tremendous growth in residential development that St. Johns County has seen in the last year ranking as the 15th fastest growing county in the country last year.
"We're seeing a lot of interest from the residential side and the retail is looking to follow," she said.
St. Johns is also very limited in the office and industrial markets with most of what's already available occupied.
Chambers, a senior vice president with JaxUSA Partnership, talked about how companies like Deutsche Bank help attract other companies to Jacksonville.
On a site visit with The Macquarie Group, a global financial services firm based in Australia that recently opened an office in Jacksonville, Chambers helped connect them with Deutsche Bank.
"In the process of brining a new company in, they know we are going to say positive things," she said. "What they really want to do is get out and meet with other employers."
If any of the about 90 attendees were expecting a seminar on gender issues, they would have been disappointed. Instead, for roughly an hour, the talk was about office space, economic development efforts and a glimpse into a world where discussing $100 million deals can and often do happen.
Glasgow said the industry was very much part of the "good-ole-boy world" in the past, but that is changing.
"There are a lot more women coming into the profession," Glasgow said. "We welcome that. Women are very detail oriented and very personable and help get the job done."
Commercial real estate is a male dominated industry with very few female brokers, said Kaycee Gardner, senior vice president at Jones Lang LaSalle.
"I think it's like any industry. As long as you know your profession and you're knowledgeable, that speaks on its own," she said.
This has not been a problem for anyone on Wednesday's panel.