Pirates, Flags and Buried Treasure – Folklore of Amelia Island
September 27, 2017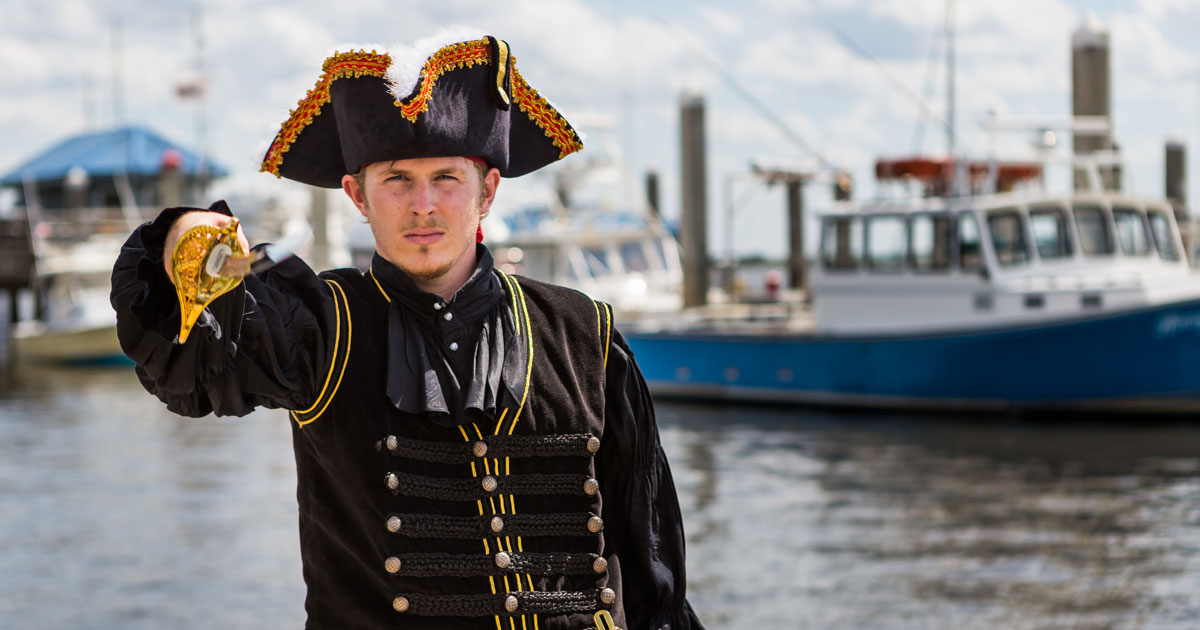 Modern-day Amelia Island is known for its breathtaking beaches, world-class resorts, and historic charm, yet it's the unwritten and often embellished history that is most intriguing. Stories of pirates and their escapades have been woven into our community's chronicles. During the 17th and 18th centuries, Amelia Island was a safe haven for pirates and scallywags such as Blackbeard, the Laffites, Luis Aury, and Gregor MacGregor and stories of their buried treasure have been passed down over generations.
Much of Amelia Island's pirate history is undocumented and as Jayne C. Nasrallah, Archivist for the Amelia Island Museum of History stated, "Much of what they did was illegal and they weren't keeping a diary of their illegal activities." We do know Amelia Island's deep water harbor, now known as the Port of Fernandina, one of the natural deepest in the Southeast, was and is ideally suited for large sailing vessels, making it easy for a Spanish galleon to sail into port at low tide. Amelia Island was also a stopping off point for pirates traveling to and from the Carolinas to the Caribbean.
The Green Cross of Florida
photo credit: Judie Mackie, Fernandina Pirate Club, Inc.
Scottish mercenary, Gregor MacGregor, was also a pirate. It was June of 1817 when MacGregor and his group of 55 men seized Amelia Island at Fort San Carlos, constructed in 1816 to protect Spanish interests in Northern Florida. MacGregor and his group are credited with freeing Amelia Island from Spanish rule, hoisting the pirate flag, the "Green Cross of Florida".
Fort San Carlos was located on the northwestern side of the island with panoramic views of the Amelia River and the Fernandina harbor. The site of Fort San Carlos, called Old Town now, was home to the only settlement on the island – the village of Fernandina. Located in Old Town is Plaza San Carlos (Fernandina Plaza) the most historic site on Amelia Island. Prior to Spanish explorers arriving at the Plaza, the location was home to an Indian campsite.
It is reported that MacGregor wasn't a wealthy pirate and his love affair with Amelia Island was short-lived, ending in the fall of 1817.
Amelia Island, Mexico
Enter French pirate Louis Michel Aury. This scoundrel was born in Paris and as a young man served in the French Navy. He proceeded to work on privateer ships where he accumulated enough wealth to become the master of his own vessel, thus he decided to support the Spanish colonies of South America in their fight for independence from Spain.
Through his travels, Aury accepted an appointment as resident commissioner of Galveston Island, Texas, given to him by Jose Manuel de Herrera from the Republic of Mexico. Galveston was declared a port of the Republic and Aury established a privateering base there in September of 1816.
While Aury was away, the pirate Jean Lafitte took control of the base at Galveston, causing Aury to leave Texas in 1817. Aury headed to Amelia Island joining MacGregor and his lieutenants, Ruggles Hubbard and Jared Irwin. MacGregor, without fund for his men and munitions, left on September 4, 1817, leaving Amelia Island in the hands of Hubbard and Irwin. Hubbard and Irwin welcomed Aury, who negotiated with MacGregor's lieutenants and it was then that Amelia Island was annexed to the Republic of Mexico in September of 1817 and its flag was raised over Fort San Carlos.
Aury surrendered Amelia Island to American forces and the American flag replaced the Mexican flag.
Jean Laffite…or is it Lafitte?
There seems to be some discussion as to the correct spelling of his name. No matter how one spells it, French privateer Jean Laffite made a name for himself as the hero of the Battle of New Orleans. Whether or not Laffite spent significant time on Amelia Island is debatable, but more than likely, this Frenchman visited the island as he traveled from France to the Gulf of Mexico, where many of his documented activities took place.
It is written that Laffite arrived in Galveston in 1817 as part of a secret mission for the Spanish, which was embroiled in the Mexican War of Independence. Aury, who claimed to be a Mexican revolutionary, left the island two weeks into Laffite's stay to gain control of the Mexican invasion, thus allowing Laffite to take control of Galveston Island.
Laffite set up residence on Galveston Island and pledged an oath of allegiance to the Republic of Mexico. Upon Aury's return to Galveston, he was surprised to learn he had been overthrown as the island's leader during his absence. After much complaining, which apparently fell on deaf ears, he left for the coastal breezes of Amelia Island.
Pirates Still Roam Amelia Island
photo credit: Judie Mackie, Fernandina Pirate Club, Inc.
Yes, it's true. There are still pirates roaming the cobblestone streets of Fernandina Beach, burying their toes in the sand and hoisting a bottle of Marlin and Barrel (a local distillery) rum. These pirates aren't the scallywags of lore, but the Fernandina Beach Pirates Club, a group of community do-gooders.
The Fernandina Beach Pirates Club, Inc. was founded in October of 1973 to promote the Isle of Eight Flags Shrimp Festival, an annual event held every May to pay homage of the island's shrimping industry and known as one of the Southeast's most attended art festivals. Each year this raucous group of men and women can be found 'invading the island' during the festival's kick-off ceremonies. Visitors to the festival will find the pirates wandering the streets sharing their treasures, participating in the opening day parade and smiling for a selfie.
Judie Mackie, public relations chair for the organization, said they hope to keep the pirate spirit alive by carrying on the Fernandina tradition. Throughout the year, you'll find members of the club at various fundraising events and parades. Mackie said members can be found reading to students and visiting local nursing homes all in an effort to bring joy to the community.
While the club is named after Fernandina Beach, they see themselves as ambassadors of Nassau County helping to spread goodwill from the beaches to Bryceville and beyond. Their passion for giving back to the community is shared every other month when they partner with the Blood Alliance for a blood drive.
The Fernandina Beach Pirates Club hands out some extra booty in the form of a college scholarship. Seniors throughout Nassau County are eligible to participate in the essay contest. High school mateys who plan to attend the military are eligible for a separate award.
Visit Amelia Island and you're sure to see these colorful characters welcoming you to their fair isle or you may be graced with a visit from a pirate of our island's past. Rumor has it if you look close enough, you'll see Aury and his comrades engaged in some piracy.