Amelia Toffee Company To Move Manufacturing Facilities to Amelia Island Florida
July 8, 2019

Move in Response to 80 Percent Growth Year-to-Date
The Amelia Toffee Company announced plans to relocate its manufacturing operations from Jacksonville, Florida to Amelia Island, Florida where the company will consolidate its facilities. Amelia Toffee Company will take over the space formerly occupied by the Great Harvest Baking Company. The move is in response to the company's 80 percent year-to-date growth; this marks a significant milestone in Amelia Toffee Company's history, which has brought toffee to the forefront of premium dessert snacks.

"For the past four years, we have utilized shared kitchen facilities. Our goal has always been to move operations to Amelia Island, and our exponential growth has made that dream a reality," said Anita Comisky, Founder, and CEO. "The timing is just perfect."

Amelia Toffee Company, a hand-crafted, small-batch toffee maker, launched in July 2015 with owner Anita Comisky's family recipe as a foundation. Comisky took the recipe, experimented with thousands of iterations, and spent years refining it to near perfection. She utilizes carefully selected ingredients, including premium dark chocolate and California almonds, to create the incredibly decadent, almost sublime taste experienced today. Amelia Toffee Company uses no extra colorings or preservatives to craft their artisan toffee.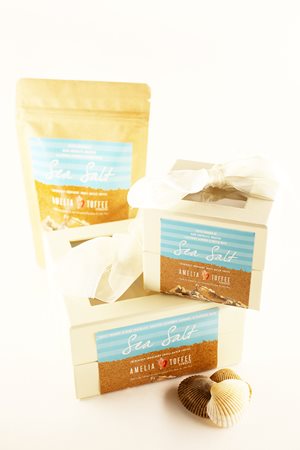 Amelia Toffee Company has partnered with companies such as Great Divide Brewing from Denver, Colorado and Florida favorites St. Augustine Distillery, Florida Pure Sea Salt, Jacksonville nonprofit Rethreaded, and Amelia Island-based Marlin and Barrel Distillery to craft their unique flavors.

"It's important for us to partner with local businesses because we're all in this together," added Comisky. "The small-business community is supportive of each other, and we love to play a role in introducing our customers to these wonderful organizations."

Comisky is exceptionally proud of the partnership with Rethreaded an organization which provides a second chance at life through employment for survivors of human trafficking in Jacksonville, Florida.

Amelia Toffee Company is sold in all Whole Foods, Lucky's Market, Bealls, and Earth Fare stores in Florida and over 400 stores nationally. Their toffee can also be purchased in 15 locations on Amelia Island, including the Ritz-Carlton, Amelia Island, Omni Amelia Island Plantation Resort, Amelia Island Museum of History. Amelia Toffee Company also creates private-label products for the Elizabeth Pointe Lodge on Amelia Island, Marriott Sawgrass in Ponte Vedra Beach, Florida, and The King and Prince Beach Resort on St. Simons Island, Georgia.

"We have been fans of Amelia Toffee Company since the beginning and are ecstatic to welcome them home," added Laura DiBella, Executive Director of the Nassau County Economic Development Board. "We have enjoyed watching them grow and more importantly, are thrilled to bring the jobs to Nassau County."

Comisky hopes to provide 10 additional job opportunities as the company moves into its busy season.