DeSantis visits Nassau with $4 million check
June 29, 2022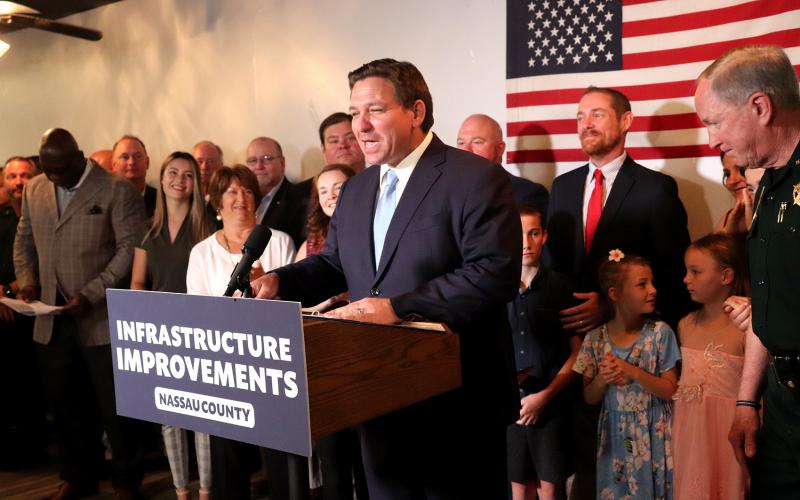 With a message strong on economic development, Gov. Ron DeSantis awarded the town of Callahan $4 million toward a new water plant at Crawford Diamond Industrial Park.
DeSantis held a press conference Monday morning in The Pig Bar-B-Q with a standing-room-only crowd in attendance. Callahan town officials were on hand to accept the check. Mayor Matthew Davis presented DeSantis with a bronze town seal.
"Not a bad day at the office, $4 million bucks," the governor said.
The funds derive from an economic development grant from the governor's office, according to Callahan Public Works Director Mike Williams. Town representatives are working with Nassau County officials to obtain an additional $4 million from the American Rescue Plan Act of 2021. Pending contract negotiations and the receipt of funds, it could be a few more months before the water plant project breaks ground. It will take about two years to complete, Williams said.
The 1,800-acre industrial park, designated as a mega-site, can accommodate up to 10.5 million square feet of heavy industrial land use. Florida Power & Light purchased more than 1,300 acres in 2017 from Rayonier for $13.1 million.
"There's businesses that are very interested in coming to this particular industrial park in Callahan," DeSantis said. "And the fact that we're able to do this is, I think it's going to make it that much more attractive. And so you think about this mega-site, we have two different rail lines that service it, access to three ports in under an hour and only two hours from the Port of Savannah and only 18 miles to I-95 and to I-10. And so that's really, from a logistics perspective, that's a great place to be and I think businesses understand that."
Strengthening infrastructure supports manufacturing and industrial opportunities locally and across the state.
"The town of Callahan and the Crawford Diamond Industrial Park, we believe, are primed to bring more jobs to the area for the people of Nassau County," DeSantis said. "We don't need to tell anybody up in Nassau County that this part of the state is growing. This is the place people want to be and you have over 1.5 million people just in the Northeast Florida region alone."
The area could gain more than 2,000 jobs that could have an economic impact of $25 million, according to the governor.
JAXUSA Partnership President Aundra Wallace spoke of how the job market has grown under DeSantis' leadership. JAXUSA Partnership is the regional economic development arm of JAX Chamber, serving Nassau, Baker, Clay, Duval, Flagler, Putnam and St. Johns counties.
"The appeal of doing business in Florida has been especially evident over the last few years, as companies were searching for lower costs of doing business, desirable infrastructure and an available and a skilled workforce," he said. "Since the beginning of 2020, the seven-county region of Northeast Florida has seen unprecedented growth. This is no doubt due to the spotlight on Florida."
Two prospects are interested in the Crawford Diamond Industrial Park, though Wallace did not say who they were.
"We could soon be seeing upwards of 400 to 800 new jobs and almost $200 to $400 million dollars in new private capital investment," he added. "And so, governor, thank you for this particular grant. And we look forward to coming back here to announce new jobs coming to Callahan."
Florida Department of Economic Opportunity Secretary Dane Eagle said that, as of Friday, the state's unemployment rate was 3% – lower than the national average of 3.6%. California, Texas and New York's unemployment rates were still well above 4%.
"When the governor looks across the state for how we can invest in workforce and infrastructure, it's very competitive," Eagle said. "And by the way, I will say many states like to invest in businesses. They just give cash handouts. We don't do that in Florida. We invest in our people, and we invest in communities."
The governor spoke of future plans to increase industrial and manufacturing jobs.
In an effort to steady supply chains, DeSantis discussed how the availability of commercial driver's licenses to attract additional truck drivers was expanded.
"You've got these great ports throughout the state," he said. "We need people that are going to be able to drive those big rigs to be able to get goods to market. The good thing is, is it's something that we really need for the economy and the supply chain, but the compensation is fantastic for a lot of these people. I mean you're getting six-figure salaries, signing bonuses, all these different things."
DeSantis continued, "We've worked to produce more diesel mechanics. We've worked to produce other avenues that are really in high demand and that help provide the pool of people that can power an economy that is manufacturing things. We want to make more stuff in the United States. We want to make more stuff in the State of Florida."