Economic Update with Keynote Speaker Stephanie Stuckey
June 6, 2023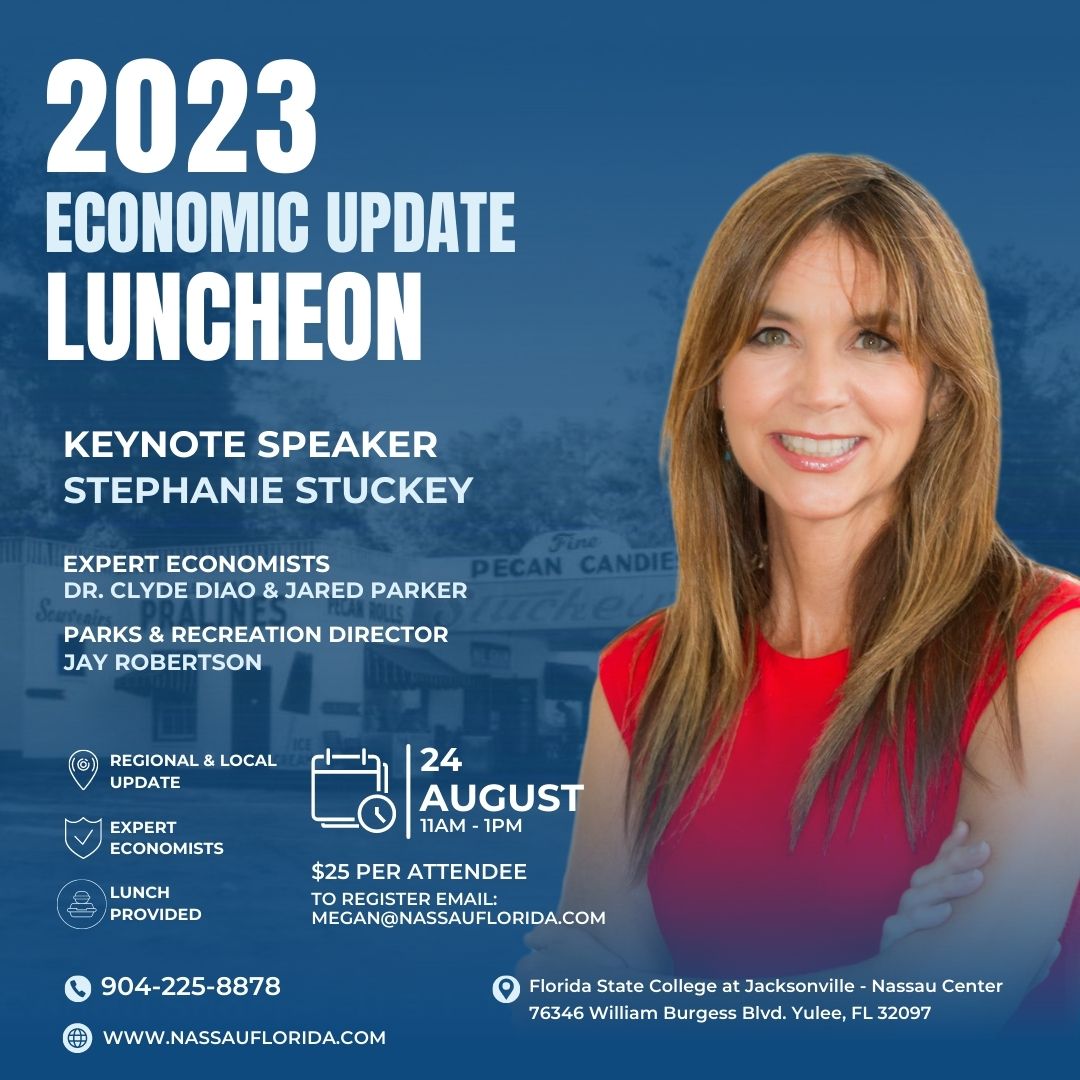 Nassau County Economic Development Board will be hosting its first Economic Update Luncheon on
August 24, 2023, from 11 AM to 1 PM at the Florida State College at Jacksonville (FSCJ) Nassau Center.
Please join us as we hear from the Parks & Recreation Director, Jay Robertson.
Expert Economists Jared Parker and Dr. Clyde Diao, with over 40 years of experience, these two former state economists founded the Regional Economic Consulting (REC) Group. Dr. Diao is a former Deputy Policy Coordinator and Lead Economist of the Florida Executive Office of the Governor. Mr. Parker comes from the Florida Legislatures' Office of Economic and Demographic Research.
Stephanie Stuckey is the CEO of Stuckey's, the roadside oasis famous for its pecan log rolls. The company was founded in 1937 by Stephanie's grandfather, W.S. Stuckey, Sr., as a pecan stand in Eastman, GA, and grew to over 350 stores nationwide. The company was sold in 1964 but is now back in family hands and making a comeback.
Stephanie took over the company in 2019 and, under her leadership, Stuckey's has purchased a pecan-shelling and candy-manufacturing facility in Wrens, GA, revamped its distribution operations based in Eastman, GA, acquired a healthy pecan-snack company, rebranded its products and website, added four new franchised stores, expanded its B2B retail customer base, and increased online sales 550% — all while weathering the COVID-19 pandemic.
The event will be from 11 am - 1 pm with lunch being provided.
Registration is now CLOSED